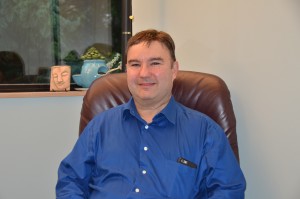 I am a licensed psychologist providing compassionate results-oriented psychological services by forming a collaborative relationship to work together to make a client's life better. I provide psychotherapy for anxiety, depression and relationship issues. I completed my Ph.D. at an APA-accredited program in clinical psychology at Michigan State University in 1992.  My APA accredited pre-doctoral internship was completed at Long Island Jewish Medical Center in New Your City. I completed a post-doctoral fellowship in sexual medicine at the University of Washington.
I have 25+ years of experience conducting psychotherapy. I am originally from New York City and I have been practicing in Seattle since 1992. I have been a clinical faculty member of the University of Washington Department of Psychiatry and Behavioral Sciences, but now devote all my time to clinical practice.
Washington State Psychology License #: 1712
Philosophy of Practice
My approach to psychotherapy involves meeting each individual person where they are when they start therapy and forming a collaborative relationship. I provide a safe, supportive and comfortable environment in which people can explore the concerns that brought them into psychotherapy without judgment and with unconditional positive regard. Psychotherapy is like an open field or a big sky into which a client's desires and dreams can emerge and be examined with the hope that they can one day be fulfilled. Psychotherapy often involves exploring client's relationships. Relationships are complex, and people often want to understand more about how they interact with others, and to evolve and grow personally in ways that promotes having better, more fulfilling relationships.
The most significant growth is often possible when people can look within themselves to see the roles that their own actions and choices and personalities play in their lives, relationships, and work. Therapy works best for people who are interested in exploring the details of their own autobiographies.
My therapeutic work incorporates humanistic, psychodynamic, mindfulness based, and cognitive-behavioral approaches as needed for a particular person and situation. I provide shorter-term, problem-focused, and longer term more intensive psychotherapy.
The unexamined life is not worth living.
Socrates
EDUCATIONAL BACKGROUND
Ph.D., CLINICAL PSYCHOLOGY, Michigan State University, East Lansing, Michigan. (1992) (APA Approved)
M.A., CLINICAL PSYCHOLOGY, Michigan State University, East Lansing, Michigan. (1988) (APA Approved)
B.S., PSYCHOLOGY, Tufts University, Boston, Massachusetts, Graduated Magna Cum Laude. (1981)
SENIOR FELLOW, University of Washington Medical Center, Reproductive and Sexual Medicine Clinic, and the Department of Urology, (1992) Outpatient clinical work included psychological evaluations and sex therapy.
PSYCHOLOGY INTERN, Hillside Hospital Division of Long Island Jewish Medical Center (LIJMC), New York, N.Y. (1990) The internship consisted of two major rotations and four minor rotations: Schizophrenia Inpatient Ward, Queens Hospital Center Day Hospital, Human Sexuality Center, Geropsychiatry Clinic, Schneider Children's Hospital Department of Developmental and Behavioral Pediatrics, Adult Outpatient Clinic.
PUBLICATIONS AND PRESENTATIONS
Ankuta, G. Y. & Abeles, N. (1993) Client satisfaction, clinical significance, and meaningful change in psychotherapy. Professional Psychology: Research and Practice. 24, 70-74.
Ankuta, G. Y. & Abeles, N. (1992) Client satisfaction and meaningful change in psychotherapy. Poster presentation, American Psychological Association Division 12 at the 1992 convention in Washington D.C.
DISSERTATION, Michigan State University, "The Impact of the Initial and Later Therapeutic Alliance on Psychotherapy Outcome"(1992)
MASTERS THESIS, Michigan State University, "Client Satisfaction and Meaningful Change in Psychotherapy". (1988)
PROFESSIONAL ACTIVITES
20012-2014 CHAIRPERSON, Department of Behavioral Medicine, Highline Medical Center
1995- 2006 CLINICAL FACULTY MEMBER, University of Washington, Department of Psychiatry and Behavioral Sciences, Seattle, WA.
1994-2001 CHAIRPERSON, Education and Training Committee, Washington State Psychological Association.
1997-1998 CO-PRESIDENT, Pacific Northwest Psychoanalytic Society.
1997-2001 MEMBER, Practice Management Committee, Washington State Psychological Association.
PROFESSIONAL ORGANIZATIONS
American Psychological Association (APA) – Member
APA, Division of Clinical Psychology – Member
APA, Division of Psychotherapy – Member
The Northwest Alliance for Psychoanalytic Study – Member
Seattle Psychoanalytic Society and Institute – Member